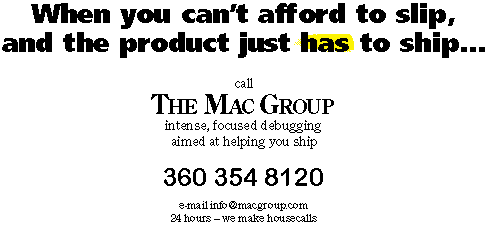 The Mac Group was formed to solve a pressing problem in the Macintosh industry. Macintosh software development continues to become more complex; obscure bugs creep in and become increasingly difficult to trace down and remove.

The Mac Group is a team of the best Macintosh software engineers in the industry. These engineers have been involved in over a hundred different commercial software projects, including many products that you use every day. Our team includes principal engineers of Apple's System 7.5, Apple's MPW C and Link tools, Symantec's DiskLock, Symantec's Norton Utilities, Connectix's RAMDoubler, Software Ventures MicroPhone, Now Utilities, and PowerOn's On Guard. They have over 50 years of Macintosh development experience among them, and collectively have won over thirty awards and award nominations. Now you can access that programming expertise anytime with just a phone call.

When you discover a problem in your software, someone has to track the bug to the source and fix it there. That is precious time an engineer could spend implementing that last feature, or fixing a different bug. Call The Mac Group to discuss your most difficult bugs and formulate a plan to eradicate them. The result? A cleaner product in just a few days. With The Mac Group, you can ship your software sooner.
Copyright © 1995, The Mac Group. All rights reserved.